Care Center partners with Oak Valley Hospital to form a coordinated system of short and long-term care, as well as acute care
Located across the street from our 24-hour Emergency Department
Close to physicians' offices
Palliative care available
Medi-Cal and Medicare certified
Recognized as a provider by most private insurance companies
Be cared for by your physician or request a physician referral
Medical Directors are part of the care team, provide advice, and assist in day-to-day operation.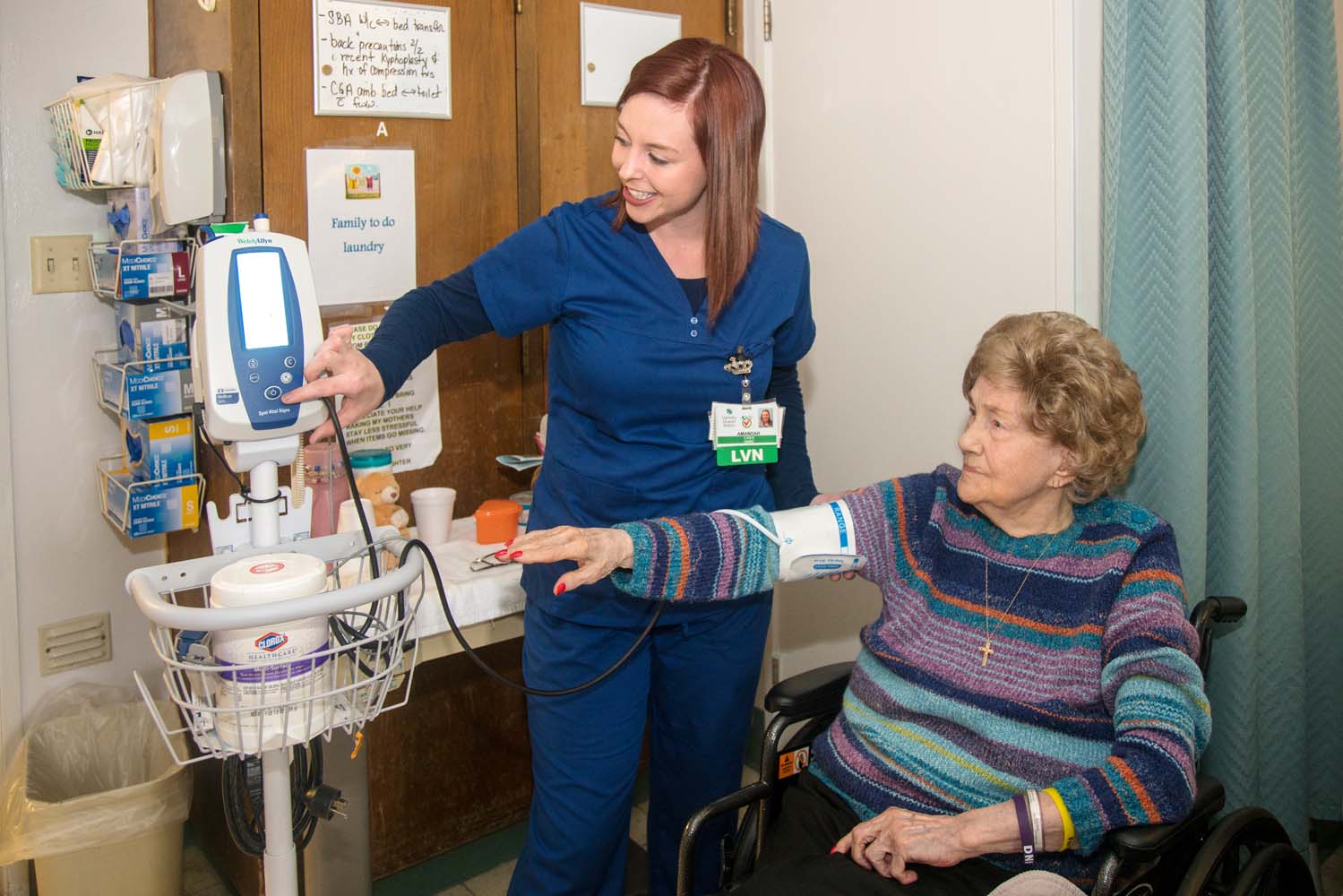 For patients who need rehabilitation before going. home, transitional care is available for a few days or weeks. Care include:
Physical, Occupational, speech Therapies
Activity-Dining Room
Outdoor courtyard for patient use
The skills of our multi-disciplinary staff reflect a wide range of professional expertise-primary care and specialist physicians, case managers, nurses, certified nursing assistants, rehabilitation therapists, dietitians, activity specialist and social workers. Collectively, our staff creates a complete continuum of care from hospital to long-term services.
Nursing and Rehabilitation-Transitional Care Unit
The Transitional Care Unit (TCU) at Oak Valley Hospital provides skilled nursing and rehabilitation services to patients who are still recovering from an acute illness or injury and are unable to safely return home or back to the community. The TCU is a post-acute care unit located within the hospital for short-term rehabilitation with access to all medical specialties, such as, diagnostic imaging and laboratory services. The TCU is a part of Oakdale Nursing and Rehabilitation Center (ONRC), which is rated 5 out of 5 stars by Center for Medicare and Medicaid Services (CMS) Nursing Home Compare website.


The TCU at ONRC consists of a dining room, patio area, and a common area for patients to enjoy music, television and socializing with their family, friends and other patients. Each room is equipped with an individual phone and television for each patient. The therapeutic gym provides ample space and equipment to maximize each patient's individual rehabilitation goals.


The interdisciplinary team at the TCU is under the direction of a medical doctor and coordinated by a highly trained and dedicated team of professionals who are committed to providing the highest quality of care to our patients. ONRC's healthcare providers includes: physicians, registered nurses, nursing assistants, pharmacists, physical therapists, occupational therapists, speech therapist, registered dietician and social services/discharge coordinator. An individualized treatment plan is developed to optimize each patient's recovery and quality of life. The interdisciplinary team meets weekly to review each patient's progress towards their individualized goals and determine a plan for discharge. The team also meets with the patient and their family to provide any training or education regarding the patient's progress for a successful discharge.


If your doctor recommends short-term rehabilitation after your acute care stay, contact our team of healthcare professionals to determine if ONRC is the optimal facility for your recovery!
Physical Therapy
Occupational Therapy
Speech Therapy
Social and recreational services
Podiatry services
Respiratory services
Nutrition services
Nursing services
Pharmacy services
Clinical lab & radiology services
Optician services
Dental services